The kiwi is a tropical green fruit with little black seeds that add a little crunch. This wonder-fruit is low in fat and high in nutrients, making it a great choice when your goal is to lose weight. Below, we'll take a deeper look at the kiwi and dissect all of the goodness it has to offer.
What's Good About Kiwi?
The kiwi is fuzzy on the outside and packed full of good stuff on the outside. One of the best things about the sweet and tart piece of fruit is that it's got little to no calories, making it a staple weight loss treat.
The juiciness of the kiwi comes as a result of its high level of water, which is a great substance to hydrate the body. Apart from these main goodies that make it a great snack for weight loss, you'll also find kiwis are packed full of:
Potassium + Vitamin K
These two together are great promoters of bone health. It helps to keep them strong and away from risks of fractures.
Fiber
Fiber is a great nutrient that helps make digestion a breeze. It will not only aid in digestion but help keep you full, two things that are great for weight loss.
Vitamin C
Vitamin C is a booster for the immune system and also helps support both skin and eye health. You'll find a good amount of vitamin C in kiwis.
Serotonin
That's right, kiwis have just what you need for a good night's sleep. Eating one about two hours before bed could help promote the hormone and give you a longer, more soothing rest.
All of these good-for-you ingredients come together to nourish the body with healthy fibers, vitamins, and minerals to support a healthy and happy gut. Of course, the burst of natural sugars boosts mood and can be the perfect pre-gym pick me up.
When Is the Best Time to Eat Kiwi for Weight Loss?
The fiber and ease of digesting a kiwi make it the perfect fruit to eat at any time of day. The only thing to watch out for is the sugar content, as you may get a burst of energy if eating right before bed. Other than that, you can eat one just about any time.
The best time to enjoy one is in between meals, eating one as a snack to boost your energy during the day. The added fiber will help digest larger meals and the nutrients help to keep you full and energized throughout your long day.
The one thing to keep in mind is how much you eat, as you don't want to go overboard. The one thing you need to watch for is sugar, especially if you have a condition like diabetes.
The Best Ways to Eat Kiwis for Weight Loss
First of all, if you've never had a kiwi, you're missing out. They're colorful, tasty, and those little seeds take the mouthfeel to a whole new level. If you're trying to brainstorm a menu to start losing weight, here are some ways that you can pencil kiwis in.
Plain Ol' Kiwi
Kiwis alone are tasty and nutritious. That means you don't have any prepping involved, all you have to do is cut it open and enjoy. It's best to cut down the middle and use a spoon to scoop out the good stuff, eating it and tossing out the rind. You can also cut slices, though that requires a bit more patience.
Top Your Salads
There is nothing better in the summer months than a tasty salad topped with fresh fruit. You can add kiwi to your next salad, pairing it up with strawberries, blueberries, and drizzling some honey-lime dressing over it. We promise it'll be one of your next favorite summer salad recipes.
Blend It Up
Smoothie anyone? Just like any other fruit out there, you can add kiwi to a delicious smoothy. Think about a yummy banana and orange smoothie or even a super-healthy blend of celery with kiwis for a calcium boost that's great for your bones, skin, and teeth.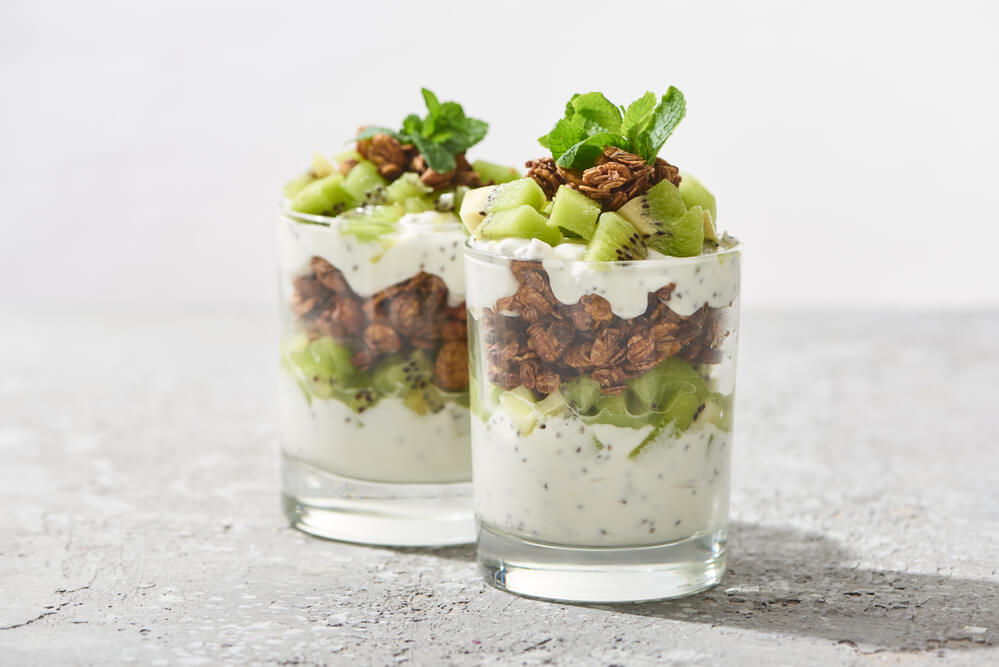 Yogurt Toppers
Kiwis make a great topper for yogurt, pairing well with its signature tang. All you have to do for this one is add a few slices of kiwi to the top and maybe spread some almonds and drizzle with honey for a snack that's tasty and healthy. 
Final Thoughts
We've got news, kiwis make the cut, going down as a great fruit for your weight loss journey. Use them in a variety of ways to feel better and more energized, enjoying all the benefits that come from a well-balanced diet.
Be sure to change up your meals and make them fun, so you can meet your weight loss goals without any hiccups.