There is no shortage of diet-friendly dessert options on the market to help you indulge your sweet craving while staying on track. Jello is a great option if you're counting calories or trying to limit your sugar because it gives you all of the sweet flavor of a dessert without the added guilt. 
While Jello alone won't make you lose weight, it's a great option to have instead of a calorie-laden cookie or ice cream. This low-calorie gelatin dessert is truly a dieter's best friend. Keep reading to learn how Jello can help you meet your weight loss goals this year. 
Satisfying snack or dessert
One of the best things about Jello is that it's very filling and satisfying for being such a light snack or dessert replacement. Because there is so much water in Jello, it will make you feel and stay fuller longer. 
Because Jello makes you feel full, it will help you fight the temptation to reach for another snack or dessert later on. If you struggle with constant snacking or overeating, Jello can help you curb those cravings and stay feeling full and satisfied. 
Easy portion control
If you're guilty of binge-eating even the healthiest of foods if left to your own devices, you know the importance of portion size. Jello conveniently comes in pre-made cups that are the perfect portion size. The Jello single-serve cups are under 100 calories, zero fat, and even no sugar in some varieties.
These individual portions are great to pack in your lunchbox for work or to take with you when you're on the go. All you need is a spoon and you've got a great healthy snack or dessert that won't derail your weight loss goals.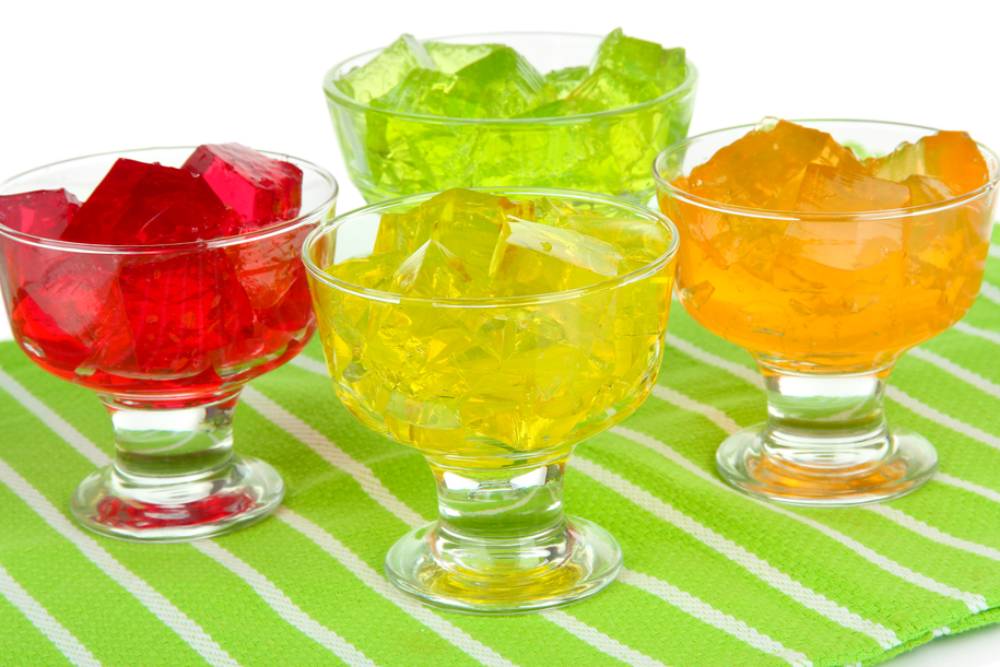 Various flavor choices
One of the challenges of dieting is that you tend to eat the same few things all the time, which can get boring. When your food choices start to feel uninspiring, you're more likely to cheat on your diet. It's important to find ways to change things up with what you eat so you don't get bored. 
With over 20 unique flavors, you are certain to find some Jello flavors that you love. The wide range of fruit flavors includes flavors that even mimic some of your favorite desserts, so you will feel like you are having a treat even when you are staying on your diet. 
If you find a Jello flavor you love, you can stick with it! However, there are almost two dozen different Jello flavors you can try. You can mix and match different flavors or get a different one to have every day of the week so that you never get sick of the same flavor. 
Sugar-free options
When you can't eat sugar or are trying to limit your sugar intake, you may feel like you'll never get to enjoy a delicious dessert again. It can be frustrating at times to feel like you don't have any good options for a dessert that fits your sugar-free lifestyle. 
If you are on a sugar-free diet either by choice or due to a health condition, there are plenty of sugar-free Jello flavors. Sugar-free Jello is designed to taste as good as the real thing, minus the sugar. 
It's a relief to not have to sacrifice a yummy, sweet treat because you need to avoid sugar. Sugar-free Jello is a great way to stay on track, limit sugar, and keep working towards your weight loss goals. 
Recipes galore
There is so much you can do with a packet of Jello mix other than just making plain Jello. It's easy to get stuck in a food rut when you're trying to eat healthily, so it's helpful to change things up whenever you can. 
If you are feeling bored from just eating your Jello by itself, there are countless recipes you can make with Jello to spice things up. You can make Jello fruit salads and unique dessert specialties that will wow the guests at your next event or even just your family after dinner. 
Jello recipes are great for times when you want to get creative with your diet. You can find all kinds of diet-friendly recipes on the internet that call for only a few ingredients other than Jello that you probably already have in your pantry. 
Importance of caloric deficit with Jello
It's no secret that Jello is a great snack or dessert replacement to eat when you are trying to lose weight. It tastes great, is low in calories and sugar, and will help you satisfy your sweet tooth in a guilt-free way. That's why Jello is a favorite of dieters and healthy eaters everywhere.
While Jello can help you towards your weight loss goal, remember that the only way to truly lose weight is to remain in a caloric deficit. The goal is to burn more calories through movement and exercise than you eat each day. If you do this you will lose weight, regardless of what you eat. 
Jello has only 84 calories in a single-serving portion, so it is a great thing to eat when you are counting calories. If it's the end of the day and you only have 100 calories left in your allowance for the day, you can easily eat Jello to satisfy your sweet tooth and stay on track towards your weight loss goals.